Phytic acid cultivation Koshihikari "Den"
Each grain of rice firmly insists on "individuality", but softly unravels in the mouth ... "Well, what is this!" I shouted unintentionally. I still remember the deliciousness of the rice balls I received in front of the hearth when I visited the Kayamori farm.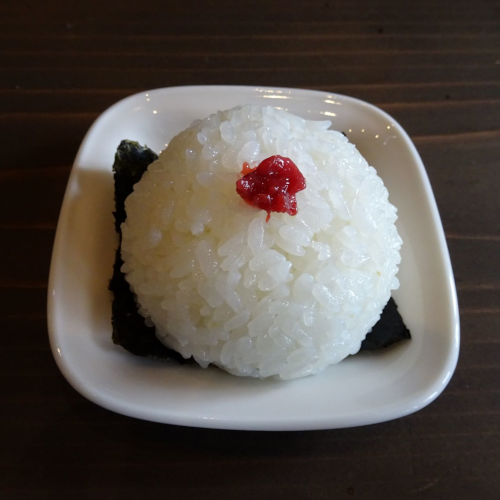 "The tension and elasticity of the surface of the rice is different. Each grain is clear and the aftertaste is good. You can already see the difference when you cook it. This is the characteristic of the phytic acid cultivation Koshihikari" Den ". is. Noriyuki Kayamori, the owner of Kayamori Farm, says so. The 11th generation of a farmer who has continued since the Edo period more than 300 years ago. He talked to Noriyuki-san, who has been searching for and practicing delicious and safe rice cultivation for over 30 years.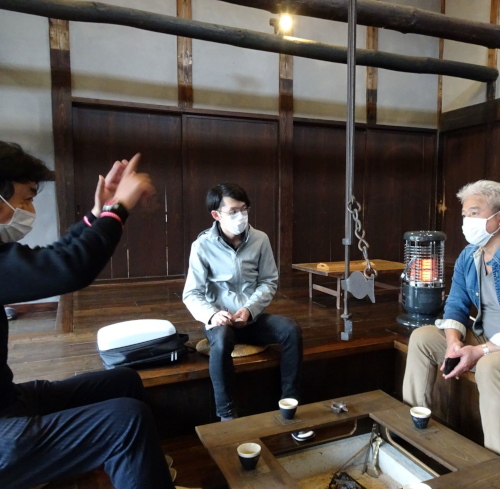 Mr. Noriyuki first encountered phytic acid cultivation in the early 90's. He was skeptical about organic farming at an early stage, as he focused on organic farming and tried it while studying. He "thinks he was fooled," and he tries the phytic acid liquid potassium silicate. A week later, he digs up the roots of rice and he is surprised. He made a clear difference when compared to organically grown rice. "It's just the ideal root shape." And he also admires the good taste of the harvested rice. It didn't take long for Noriyuki to switch from organic to phytic acid cultivation.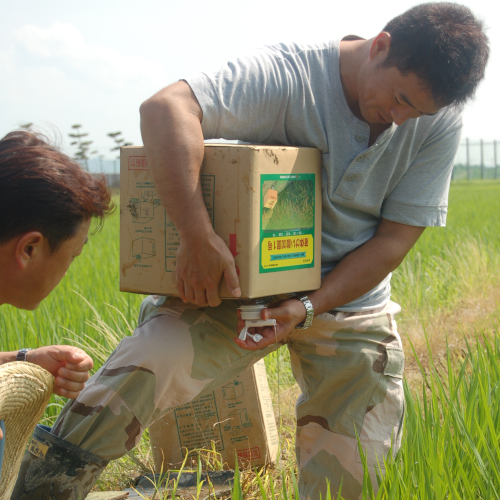 He said that phytic acid cultivation felt a response from the first year, but he tried various ways of using it and felt the effect clearly in the fifth year. Noriyuki describes this as "the environment of rice has changed." By purifying and activating the soil by phytic acid, the original vitality of rice was activated.
Furthermore, while using Phytic Acid Cogen G, Phytic Acid Phytic Acid Potassium, Phytic Acid Broth F, PK Mug, etc., unexpected effects are also discovered.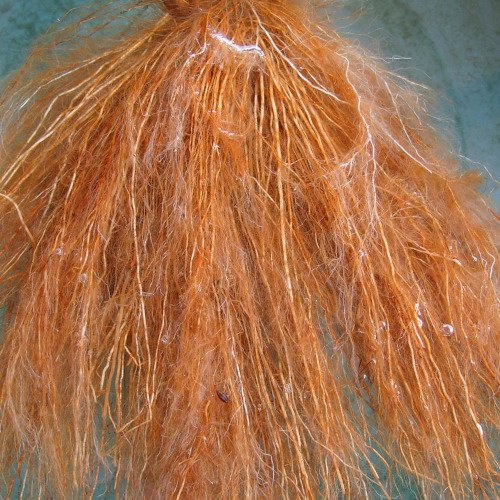 "Phytic acid broth F is a true soil conditioner. Even if you take out the soil deep in the ground, there is no sludge odor, etc. I think it is definitely a soil preparation and a rice environment creation."
"There are many scenes that can be solved with phytic acid Kogen G without relying on pesticides. Seed fir can be soaked in a 250-fold solution for two days, which will increase the momentum of rice growth.
In addition, I feel that the immunity of the rice itself is activated. It has a high bactericidal effect. "
"Phytic acid liquid potassium silicate sometimes stopped the erosion of blast disease and reduced the damage of stink bugs. My father grows more than 50 kinds of vegetables, but he also uses phytic acid there. By introducing it, it leads to pesticide-reduced cultivation. "

When talking, Mr. Noriyuki had a friendly and laughing and easy-going image, but his life was just interesting. After he graduated from high school, he was reluctant to take over the farm. "When I took the entrance exam for Agricultural University, I gave a blank answer sheet." He reluctantly begins studying agriculture, but he cannot stay still during the off-season (winter). He is a waiter at a disco in Roppongi, and by the time he is 20, he jumps out into the world. His destination is the Americas. The poor travel abroad at that time was full of thrills and adventures. "I wonder if the overseas experience gave me a sense of courage," laughs Noriyuki. Rice farming and wandering abroad seem to be the opposite acts, but what I felt that this was firmly connected was the way of life and life story of Mr. Noriyuki.
His eldest daughter was born in 1998. Taking this opportunity, Mr. Noriyuki turns his eyes to "safe and secure food for children." From the producer's point of view, how do you get to know safe food and taste the "genuine"?
Therefore, I came up with the idea of ​​selling rice balls in a mobile sales car. With the cooperation and understanding of his wife (Yuko), the rice ball shop runs through the ground, overcoming the opposition of the surroundings.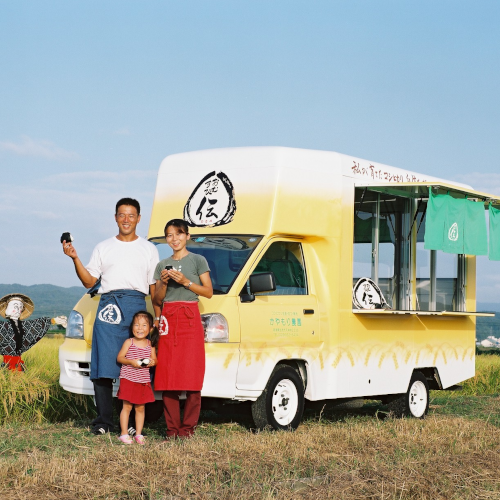 And get the overwhelming support of families with children. The rice balls on the Kayamori farm firmly grasped the children's honest tongue and stomach.
Mr. Noriyuki, who felt a response, did not stop. In 2002 he entered Tokyo. He established "Den Co., Ltd." in Akasaka. He has appeared on many TV programs including NHK, and has become famous as a "rice cooker" and "rice ball teacher". In the national rice ball shop ranking, he is by far the best. Mr. Hiromitsu Nozaki, the chef of "Waketokuyama", connections with people who are active in various fields, and volunteer activities in the Chuetsu earthquake, "everything is grateful and valuable experience," says Noriyuki.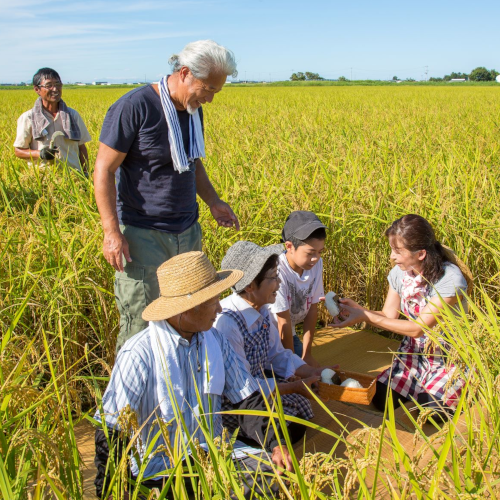 His turning point came in 2017. He decided to move the stage from Tokyo to the "Kayamori Farm" itself in Niigata. What a clean decision! Based on the concept of "getting to taste what you really want to offer locally," we will start a new initiative. One of them is the Kamo Agricultural Stay Promotion Council. Enjoy the whole "field" where various things are connected, such as farming experiences and events, delicious food, nature of Kamo, creatures, soil, and air. Imagine it would be an irreplaceable experience.
Mr. Noriyuki in front of me does not speak loudly about his philosophy. Very simple words such as "safety," "safety," "delicious," and "pleasing customers" come up repeatedly. However, at the root of this, I feel that the gentle perspective symbolized by the phrase "respecting the original vitality of rice" and the sincere feelings for the children who will bear the future are slowly flowing.
And, vivid determination and ideas like a bold game master. Courage to take a step. I think that the actual experience of "walking around the world when I was young" is alive in "here and now".
The effects of corona and falling rice prices are also affecting the Kayamori farm. However, Noriyuki hasn't succumbed to it. He is cheerful, "I am pleased to think about new products and methods that are unique."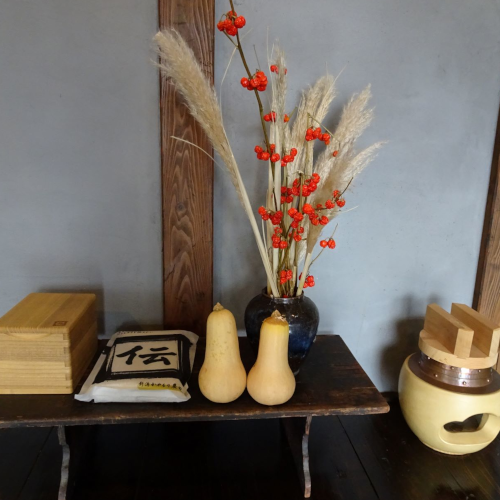 Noriyuki's frontier spirit was immortal.
And even today, the phytic acid-cultivated Koshihikari "Den" has climbed to the dining table nationwide, and is energizing someone's mind, body, and cells.
Koshihikari from Niigata Prefecture, which took time and effort to cultivate phytic acid